BEFORE, STEVEN SEAGAL WAS UCHIDESHI TOO !!
This photo taken in 1974, is of Seagal at Ki Society Dojo in 1974 Japan. On his left is Nonaka Sensei ( cheif instructor Hawaii) and on his right by the window is Imaizumi Sensei (founder of Shin Budo Kai Aikido)
This photo taken in 1974, is of Steven Seagal being corrected on his posture by Tohei Sensei (10th dan) at Ki Society Dojo, Japan while other Sensei look on and try to help.
STEVEN SEAGAL OSAKA - JAPAN (1974)
(These photos are under protection can not be copied)
The story of Steven Seagal has started when he was 5 years old
He was taken to an entertainment place where he saw an elderly man was making strange moves. He was affected with those moves.
Steven Seagal is working caligraphy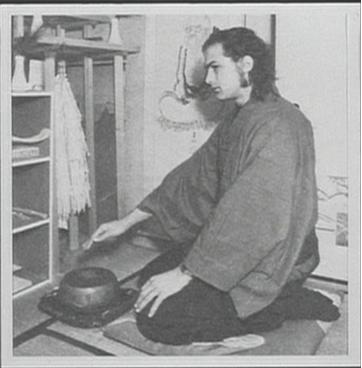 Meditation
(These photos are taken from Sensei Glenn Odle's private collection)
Very Special Thanks to Sensei Glenn Odle
So his interest in martial arts started. He studied Karate with Master Fumio Demura and gained the black belt. Besides this he was interested in other arts like Kenjutsu, Judo, Kali and Kendo. When he decided to proceed with Aikido he became the student of Sensei Harry Ishisaka. He received his 1st Dan degree in 1974 in Orange County-Ca from Sensei Koichi Tohei.
1977 September Kameoka city-Japan
This interest in Aikido took him to Osaka, Japan in 1974. There, he entered the Dojo of Grand Master (O'Sensei) Morihei Ueshiba who introduced Aikido. This was not enough for him. He studied Zen and Buddhism. Seagal became an expert on Far East Philosophy.
Seiseki Abe Sensei (10th.Dan)
(Used with permission - NYAC)
very special thanks to Shaun Ravens, Chief Instructor - NY Aikido Center Aikido Doshinokai, an Aikikai Affiliate
(This photo is under protection can not be copied)
He started to live like a Japan and he learned to read Japan and write it as calligraphy from Seiseki Abe Sensei (10th Dan).
He became a Buddhist. He deeply studied Acupuncture and Herbology
He married Miyako Fujitani who was also an Aikido Teacher in 1975. He started to manage the Tenshin Aikido Dojo, which belonged to his wife's family.
Sensei Miyako Fujitani - Sensei Steven Seagal
Foreign Aikido Dojos in Japan (1977)
About Foreigner's Dojos in Japan-1977
This is the first Dojo in Japan that was managed by a Western Person.
On the other hand Sensei Steven Seagal is the first Western Person who achieved the "Master" degree in Aikido.
In Japan they called him "Shigemichi Take" (Pathway to Prosperity). "Take" was a name coming from his wife's family.
For the world of Aikido, Steven Seagal is "Take Sensei".
TenShin Dojo - Opening Ceremony - Osaka (1976)
He returned to USA and started to manage the Martial Arts School "Ten Shin Dojo" (Tenshin Bugei Gakuen) which he opened in 1982
He entered the movie business in 1987. Mike Ovitz who was the manager of many film stars was one of his students. He convinced Seagal for a screen test, which was very successful.So in 1988 Seagal entered the movie world with his first film "Nico-Above the Law"
First Newsletter fromTenShin Dojo
(These photos are taken from Sensei Glenn Odle's private collection)
Very Special Thanks to Sensei Glenn Odle
(These photos are under protection can not be copied)
Doshu Kisshomaru Ueshiba (1921 - 1999)
Very special thanks to Mr. Angelo Jansen for this great photo
Steven Seagal recieved 7th degree black belt in Aikido from
O' Sensei Morihei Ueshiba`s son
Doshu Kisshomaru Ueshiba at 1995.

Aikido lessons in his Dojo still continue. Including 1999 he worked there as a teacher. He organized many seminars on Aikido in all over the world including his ranches at Los Angeles and Montana-Ennis, which he participated as a teacher and lecturer.
He gave interval to his teaching career due to the increasing movie works.
Steven Seagal's Philosophy
The Path Beyond Tought
""Trust your doubt. Always fight for your beliefs.
That is "the path beyond thought.""
Shihan Steven Seagal, Shinto Priest
The Path Beyond Thought
(2001)
Directed by: Binh Dang
....

Himself/Narrator

....

Himself

....

Himself

....

Himself

....

Himself
Video Clip from the film "Path Beyond Thought"
In his official site a documentary movie on what are Aikido and his works is sold. The name of this film is " Path Beyond Thought" and is in NTSC format.
In this film, Steven Seagal is telling about his adventure in Aikido from the very beginning till today. It also explains the spiritual and universal harmony of this Art. It is an educational film that is prepared with the participation of Seagal and his Students.
There are 10 chapters:

1. About Steven Seagal Sensei.
2. Steven Seagal's Aikido Philosophy.
3. Ukemi.
4. Women In Aikido.

5. The Strength Of The Mind.
6. Back To The U.S.
7. The Physical Journey.
8. The Black Belt Test.
9. Randory.
10. Conclusion.

In the beginning there are two phrases on the screen:
"You never know how long the battles going to be.", "You have to be ever ready…"


At the final section Steven Seagal's creative techniques on Aikido is displayed.
In the end there are two phrases on the screen: "What do you have when you got nothing left?", "Show me what you got…"
What students says about Steven Seagal Sensei ?
(From "Path Beyond Tought")

"First impression – he is very big, tall. "

"My first impression of Take Sense was that I felt closer and more friendly towards him than I expected."

"He can be the most gentle and he can be the most… dangerous."

"He is pretty detail and pretty technical."

"He is very fast, like lightning."

"Way he spoke, way he shakes your hand, way he looked into your eyes – there was an incredible truth there. And immediately I was interested."


"He is very kind, he's gentle – incredible."

"He has the ability to deal with you at level that you can't understand"
"Some times I get frustrated when I practice because I usually practice with men and they use they strength on me. But when I apply techniques on men correctly in works. Men feel frustrated also when a skinny girl like me throws them with correct technique."

"Women can do better aikido than men, because they don't have the strength, they have to do the techniques."


"In Japan there is a saying: There should be a balance in the development of both the spiritual and the physical self."


"One of his characteristics is that he is devoted to show the real fighting techniques in his Aikido and not just showy movements."

"Steven Seagal Aikido is more applicable on the street."


"When I realize that I'm just a small part of the universe and powerless against it, than I can realize what real strength is."

"Since I have met Take Sansei I have gained strength inside of me."

"He changed my life. My indirection to him, and training by him has change my life."
"The basic teachings of harmony, happiness, and caring about other people are really what all martial arts are about. We, as people, sometimes confuse and distort the martial arts as learning how to fight."
"As I've always said, the development of the physical man and the culmination of the spiritual self have to be simultaneous, in mind and in style."
"In order to be good at the physical techniques, you must learn the basics. In order to learn the basics, there may have to be 5,000 techniques that you have to learn."
This animation is taken from mayhem_manager web site
"One of the most important things in these degenerative times is to be able to have the humility in your heart to be able to look up to the masters who taught us." "I'm not, by this analogy in any way, inferring that these are my last days. But if you look at the last days of Miyamoto Musashi, for example, he became sort of a hermit and went up in a cave and did meditation and wrote "Go Rin No Sho." I am feeling closer like that than going out and opening up another dojo and setting up an Aikido organization."
"I don't know whether or not my Aikido has evolved or not, but I can say, in terms of what I aspire to do, people like myself aspire to be able to break into the truly mystical and esoteric realm of being to perform feats in the material world with mystical power, rather than physical power. That's something I'm still struggling with."
Shihan Steven Seagal
"Steven Seagal's Aikido is so rhythmic, you may think at this is dancing.."
Seagal demonstrating an iriminage and a hombu ukemi
Close up of an iriminage and a hombu ukemi
"Aikido is based on Love, yes it is based on Harmony, yes it is based on Oneness, and yes it is based on not having an enemy.
Even if somebody comes to try to cut my throat right now, in my opinion,they`re not necessary my enemy, because I have what we call mushin.
When somebody attacks me I don`t think about, I`m going to get him, I`m going to do this.
It`s just a state of mind, a heart without emotion, a mind without emotion that I have, and the only thing I`d do is react to terminating the situation to the best of my ability."
Sensei Steven Seagal

PHOTOS

Martial Arts History Museum Announces 2004
Inductees
"Each year, the Martial Arts History Museum nominates 30 key pioneers, masters, champions and legends to be considered for induction into the prestigious Martial Arts HALL OF FAME.

A voting process is provided for martial artists form all over the world to vote for their favorite individual to be inducted into the HALL. This year, over 254,000 votes were received.

We, at the Martial Arts History Museum are proud to congratulate STEVEN SEAGAL as being inducted into the MARTIAL ARTS HALL OF FAME. He alone, received over 20,000 votes from martial artists from all over the world. Congratulations!!!

As a new inductee, his name will be recorded for historic purposes and recognized in the upcoming Martial Arts History Museum.

At this time, we formally invite Steven Seagal to the Martial Arts History Museum Ceremony coming August 21, 2004 at the Hilton Hotel in Woodlands
Hills, California. This is a black tie affair that focuses on giving honor and respect to him for all his contributions and accomplishments for the martial arts community.

A video of his martial arts life will be displayed and a previous Hall of Famer will read his biography aloud, in which case he will be handed a custom-made
HALL statue.

Michael Matsuda
president, Martial Arts History Museum"

"MARTIAL ARTS PRICE OF HONOUR"
To STEVEN SEAGAL
Action Movie Superstar Steven Seagal To Be Honored In Las Vegas (2003)

March 3, 2003, It was announced today that Martial Arts Action movie supertar Steven Seagal will be honored by the Hawaii Martial Arts International Society in Las Vegas , NV on July 12, 2003.
He will be inducted in the Hawaii Martial Arts International Society's prestigious "International Martial Arts Hall Of Fame". "Steven Seagal has made his mark in martial arts and hollywood history, he was one of the true martial artist that got into acting, not an actor portraying a martial artist. His contribution to the world of martial arts can not be solely measured by his movie credits but for what opportunities were opened up, that is something that we as a part of the martial arts community must be thankful for. We are honored to have him as an inductee" Stated HMAIS Chairman Professor Jamie Abregana, Jr.

Steven Seagal has starred in such movies as "Above the Law" , "Hard to Kill", "Marked for Death", "Out for Justice", "Under Siege I & II", and "On Deadly Ground". Seagal also co-starred opposite Kurt Russell in a key cameo in the action hit, Executive Decision and starred with Keenan Ivory Wayans as a Los Angeles cop hunting a serial killer in the action-thriller, The Glimmer Man.

To his martial arts credit , he has been involved in martial arts since the age of 7 and became the first non-Asian to organize his own dojo in Tokyo, one that, with over 2,000 students, remains in operation today, this is an unequalled accomplishment. Seagal currently serves as CEO of Steamroller Productions, his Los Angeles based production company which is involved in the development, production, financing and marketing of television and motion picture product. He has just recently completed the production of two of the latest action packed films "Half Past Dead" and "The Foreigner", no release dates have been set as of this release.

some videos are taken from "Aikido Journal" by youtube.